Finished quilt top
A year ago, for Christmas, I sent Melissa a store-bought Christmas present. It was appreciated, but Melissa was hoping for a handmade quilt from her Aunt Linda. With that kind of enthusiasm, Melissa chose the fabrics and pattern for this colorful and cozy snuggle blanket. She was very happy to receive it last fall.
Quilt put to good use by Melissa and Honey
I had a lovely phone chat with my oldest daughter, Bethany, today. She's a real artist.
"What have you been up to?" she asked. "What projects are you working on? I've missed seeing your creations."
Well, that's a nice, no pressure way to jump in here and show you a few things that have been keeping me busy.
You know, I work for the school district, and we got
four weeks off
for the Christmas holiday! That means I had a whole week to get ready for Christmas, a whole week to thoroughly enjoy having all our kids here (I hope to come back here with some of those great holiday memories, but I'm not making any promises), a whole week to recover from Christmas (though I always keep my tree and decorations up through New Year's Day), and then a week
all to myself
. And I sewed.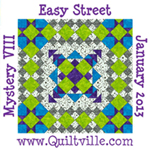 I gave up on resisting
Bonnie Hunter's mystery quilt
, and dove in, making hundreds of 4-patches, flying geese, and other components of the Easy Street pattern. No photos; I was
sewing,
but here are a few leftover bits.
I considered going with a different color scheme, but stuck with the prescribed plan, figuring Bonnie chose the final color for a reason. Would I have liked it better with red instead of green? Maybe. Now I have a basket full of blocks ready to be sewn together into a big quilt top, but I'm not in love with it, and I have other projects I want to finish.
I pulled out these "Liberated Wedding Ring" blocks, and decided to make some more, for a nice big lap quilt for myself.
It's very busy, but I like it a lot! I asked at a guild sewing event if I should calm it down, and Janie said, "Too late, now!" Ha ha! But I think the border I added does calm it a bit. I spent Superbowl Sunday making a backing, piecing batting together, and spray basting the layers together. Now I'm pondering how to quilt it.
I also basted together this little beauty.
It's made of leftovers from the quilt I made for Melissa. She helped design it. Melissa's plan is to sell raffle tickets for this quilt, then give the money to her local animal shelter, the one where Honey was found. She has a big heart!
Hmm, looking at these projects, I see a lot of green. I think my next project will not have green.