...but I'll get to that later.
You know how it is when there are things you need to do, then something comes along that you really want to do?
Even though I'd declined taking on new projects, I'd delegated projects, and I have a project with a looming deadline, I couldn't resist the appeal of this little envelope that came in yesterday's mail.
I love getting Royal Mail
My
bloggity friend, Fiona
, who lives in Scotland, sent a fat quarter of this cute fabric
Next Stop London by Robert Kaufman
.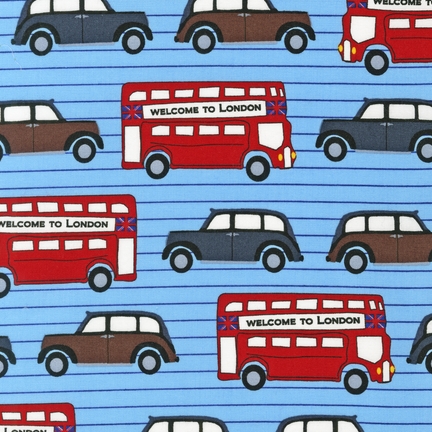 When Fiona offered the give-away on her blog, I commented that I'm a true anglophile, having fallen in love with all things British when we visited England in the 80s. With the queen's jubilee and the Olympics in London this year, I wanted to make something in tribute to all the festivities.
I resisted the fabric's siren call all day, but when I went upstairs to go to bed, at 10:00 pm, instead of turning right at the top of the stairs to head to the bedroom, I turned left, into my sewing room.
I didn't even stop to take pictures, I just cut and sewed, using just materials I had on hand. I consulted this
because I knew there was something tricky about those stripes, and I wanted some measure of accuracy in the shape of the Union Jack.
And I made this pillow, or as Fiona would call it, this cushion! Pretty cute, if I say so myself! Finished sewing at 2:00 am, and went to bed happy.
Union Jack, Linda style
Double-decker buses and cabs, icons of London
Looks good in a chair...
...either side!